Book Discussion Group: Castine's Square-Rigged Ships
Date: Thursday, August 15, 2019
Time: 4:30 pm - 6:00 pm
Castine Historical Society
13 and 17 School Street
Castine, Maine 04421
Phone:
 (207) 326-4118
Email:
 info@castinehistoricalsociety.org
Shipyards and a dozen active wharves once stood along Castine Harbor, and at least eighteen square-rigged ships were built here. Chandleries and sailmakers on Water and Sea Streets outfitted schooners and square-riggers amidst the smell of tar and fish and wood.  Castine merchants and shipowners ran an active but high-risk business from 1820 to 1860, and many of the houses in Castine were built from the profits from world-wide voyages.
You are invited to join us in reading and discussing one of the two books on which the current exhibit is based and to immerse yourself in this fascinating marine history. The discussions will be moderated by Jill Schoof and Alice Alston and curator Paige Lilly will also be on hand. Both books are for sale at the Castine Historical Society Gift Shop or may also be
ordered online at castinehistoricalsociety.org.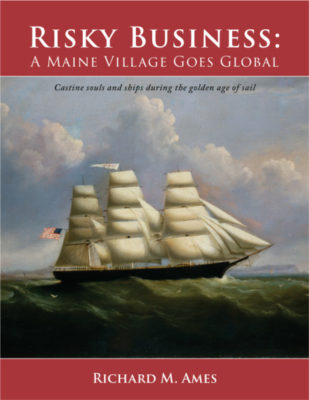 August 15:  We will discuss Richard Ames' book, Risky Business: A Maine Village Goes Global, 2019.
Eighteen square-rigged ships built on Castine's waterfront in the 19
th
 century is the focus of Richard Ames' well-researched book, upon which the current exhibit is based.  The publication of this book was sponsored by the Castine Historical Society.